METAL FABRICATION
CUSTOM MADE SOLUTIONS
INDUSTRIAL SECTOR
We work to provide our clients the highest quality for every custom requirement.

Located in Trinity, Texas, our 35,000 sq. ft. fabrication facility is equipped to provide our customers with precision CNC cutting, machining, welding, assembly, sandblasting, painting and everything in between.

We were founded in the North Houston area 11 years ago as a company specialized in custom made solutions, integrating engineering, fabrication, and finishing.

Working with numerous clients, our service begins and ends with experienced and friendly professionals. We complete projects efficiently and on schedule to form long-lasting relationships with our clients.
INDUSTRIAL SOLUTIONS
• Structural Engineering Design
• Improvements to existing designs
• Structural Analysis ( TEKLA )
• Custom made structural fabrication
• Custom CNC plasma table cutting
• Sandblast, primer & paint
• Metal bending & rolling
• Mechanical pipe fitting
From steel structures, steel components, pipe supports, pressure vessels, and large products to pipework and general fabrication, we manufacture precision products that achieve quality, industry-leading reliability and delivery.

We are committed to providing the highest level of customer satisfaction. Along with our team of qualified experienced fabricators and quality welders certified to AWS and ASME procedures and standards, we serve a broad spectrum of industries and deliver professional fabrication solutions to our clients worldwide.
OIL & GAS
• Skids
• Custom made components
• Catwalks and handrails
• Tank systems / pressure vessels
• Heavy equipment stands
• Pipe stands
AMSOL•TX Steel Fabrication supports the Oil and Gas Industrial Sector in Texas and all across the US. We provide quick-turnaround manufacturing and metal fabrication to oil and drilling companies, oil and gas support industry, oil exploration, and oil production facilities.

Our quick response enables our customers to stay in production without interruption. With our engineering team, we transform client engineered drawings into finished structural components – ready for installation and/or use.

Using a complete range of cutting-edge tools for the advanced design and manufacturing of industrial steel structures and components, we deliver timely and cost-effective solutions that keep your project on schedule.
35,000 Sq Ft FACILITY
WELDING:
MIG / TIG
STRUCTURAL
ENGINEERING
DESIGN
PLASMA CUTTING:
CNC 6' x 12'/p>
PAINT BOOTH &
SANDBLASTING
BOOTH
QUALITY
CONTROL
& TESTS
ENGINEERING
DPT. FOR
FABRICATION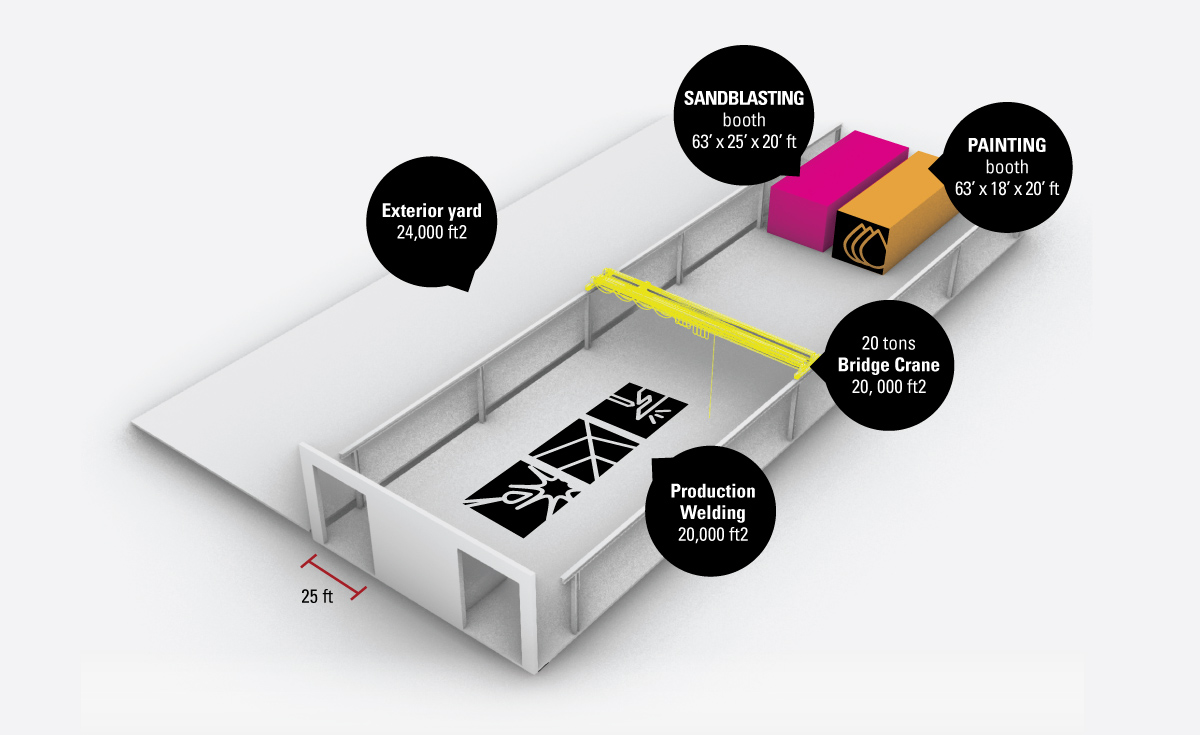 We manufacture all of our products using industry-standard materials and practices. Material test reports, procedures, and quality reports can be provided for all of our projects.

To request an estimate, learn more about custom products, or order treated metal products for your oil and gas project, contact us via email or phone today.
101 Martin Ct, Trinity TX, 75862
amsoltxproduction@gmail.com
T. +(936) 744 1800
M. +(936) 320-7854
IG: @amsoltx
HOURS OF OPERATION

Monday to Friday: 7:00 am - 3:30 pm
Shipping hours are 7:00 am to 3:30 pm